Attention A T users. To access the menus on this page please perform the following steps. 1. Please switch auto forms mode to off. 2. Hit enter to expand a main menu option (Health, Benefits, etc). 3. To enter and activate the submenu links, hit the down arrow. You will now be able to tab or arrow up or down through the submenu options to access/activate the submenu links.

Advanced Platform Technology Center
Newsroom



The daily
"Chameleon roofs" of future could save money, energy
03 Jul 2019
In Bill Yu's future world, the roof of your house might change its colors from dark blue to light blue when the sun comes out—and both your pocketbook and the planet might thank you for it. Yu, a civil engineering professor at Case Western Reserve University, calls them "chameleon roofs," describing existing asphalt shingles coated with plastic film or a spray paint that changes color depending on the amount of natural light.

APT Center announcement
APT Center Researchers Participate in VA Research Day on the Hill
27 Jun 2019
Dr. Dustin Tyler and Dr. Hamid Charkhkar were among nearly 25 leading VA researchers, some accompanied by Veteran study participants, who showed off their latest scientific, medical, and technological advances on June 20 at the Rayburn House Office Building in Washington, D.C., as part of the 2nd annual VA Research Day on the Hill. Read more...

APT Center announcement
VA and NIH Funding Awarded to Dr. Evi Stavrou
12 Jun 2019
Congratulations to Evi Stavrou, MD who has received a VA Biomedical Laboratory Research and Development Merit Review titled Treatment of Deep Vein Thrombosis via Targeted Inhibition of the FXII-uPAR-pAkt2 Axis in Neutrophils. This 4-year $642K project will start in July. In January, Dr. Stavrou received $1.2M for a 5-year National Heart, Lung, And Blood Institute R01 project titled Targeted Abrogation of the FXII-uPAR-pAkt2 Axis in Neutrophils for Treatment of Chronic Wounds. Read more...

THINK: the online magazine for Case Western Reserve University
Bioinspired Solutions: Taking lessons from creatures that sting, peck and morph
Spring 2019
To develop a new method for pushing flexible implants into the soft, squishy tissue of the brain, Jeffrey Capadona, PhD, and researchers in his Case Western Reserve lab turned last year to an intriguing source for inspiration: the "guide arm" that mosquitoes use to steady their bite. Read more...
APT Center announcement
Self-Leveling Walker Receives Innovation in Healthcare Award
03 Jun 2019
The self-leveling walker, designed for independent and safe stair climbing, received an Innovation in Healthcare Award at the Sixth Annual Igniting Innovation Conference and Awards hosted by the American Council for Technology and Industry Advisory Council (ACT-IAC), the premier public-private partnership in the government IT community. The theme for the conference was Moving Innovation from Concept to Reality which focused on practical ways of creating and adopting innovations. Read more...

THINK: the online magazine for Case Western Reserve University
Measuring Blood Clotting Ability: Hand-held monitor set for larger clinical trials
Spring 2019
ClotChip, a portable blood-testing device initially developed at Case Western Reserve, is a step closer to U.S. Food and Drug Administration review after drawing more than $9 million in investments. A university research team led by Pedram Mohseni, PhD, professor of electrical engineering and computer science, developed the device's sensing technology. Read more...

APT Center announcement
PVA Education Foundation Funding Awarded to Dr. Brooke Odle
15 May 2019
Congratulations to Brooke Odle, PhD who has received a Paralyzed Veterans of America Education Foundation award titled Feasibility of Neural Stimulation to Facilitate Independent Transfers after Paralysis. Starting in June, the goal of this 1-year, $49,660 project is to determine the feasibility of functional neuromuscular stimulation (FNS) to assist independent conventional transfers in persons with low-cervical to low-thoracic spinal injuries. Read more...

Cleveland.com
'They've given me hope': NE Ohio design teams create solutions for disabled veterans
01 May 2019
Tables at the Joseph and Helen Lowe Institute for Innovation were strewn with laptop computers, cell phones, electronics and cables. The surrounding walls were covered with scientific graffiti in drawings, notes and questions to be answered. It was the stuff of creativity and inspiration, all of it needed to help make the lives of seven disabled veterans a bit easier. Read more...

Hemostasis and Thrombosis Research Society
HTRS Member Spotlight: Q&A with Dr. Evi X. Stavrou
May 2019
Presently, Dr. Stavrou's work is focused on the Factor XII – uPAR interactome and neutrophil cell biology in health and disease. Her work has been published in premier journals including Blood, the Journal of Thrombosis and Haemostasis,... Read more...

Midwest Tech Connect
UroMonitor Wins 1st Place in M2D2 $200K Competition
28 Apr 2019
The UroMonitor, a flexible, durable, and biocompatible device that wirelessly transmits bladder data without catheters to improve the diagnosis and treatment of urinary incontinence & voiding dysfunction, was one of five 1st place winners in the worldwide 8th annual M2D2 $200K Challenge, receiving $25k of in-kind funding from Hologic. Read more...
To learn more about the UroMonitor, read an interview with Margot Damaser, PhD, who leads the UroMonitor project at the APT Center and at Cleveland Clinic Lerner Research Institute Department of Biomedical Engineering, or watch her presentation at the M2D2 Challenge.
Also in APT Center Announcment

The daily
Robots reading feelings
24 Apr 2019
Robots are getting smarter—and faster—at knowing what humans are feeling and thinking just by "looking" into their faces, a development that might one day allow more emotionally perceptive machines to detect changes in a person's health or mental state. New machines developed by Kiju Lee, ... are correctly identifying human emotions from facial expressions 98 percent of the time—almost instantly. Read more...
Also in Midwest Tech Connect

APT Center announcement
Technology Update: the Self-Leveling Walker
23 Apr 2019
The self-leveling walker was designed to meet the rehabilitation goal of mobility, allowing users to safely negotiate stairs and inclines while minimizing the cost of home adaptations and rehabilitation training time. Although this patented walker has been in development and testing since 2012, it has received a lot of attention over the past few years including the 2019 updates below. Read more...

Cleveland.com
NE Ohioans collaborate to envision, build solutions for disabled vets
21 Apr 2019
A team of three men and one woman quietly watched as Brett Clingan and his wife Margie struggled to move the Army veteran, who has lost use of his legs, from his wheelchair to a bright orange handcycle. Read more...

The daily
Five honored with 2019 Faculty Distinguished Research Award
19 Apr 2019
Over more than three decades at Case Western Reserve University, Roger Quinn has become an international leader in robotics, making seminal contributions to the fascinating and rapidly emerging field of bio-robotics. Read more...

APT Center announcement
VA Technology Transfer Awards Funding for Artificial Lung
16 Apr 2019
Congratulations to Joseph Potkay, PhD who has received a VA Technology Transfer grant titled Human-scale microfluidic artificial lungs for Veteran rehabilitation. This $118K award will last through FY2020 to fund enhancements to a new manufacturing system for large area microfluidic artificial lungs. Read more...

APT Center announcement
NIH R01 Funding Awarded to Dr. Jeffrey Capadona
12 Apr 2019
Congratulations to Jeffrey Capadona, PhD who has received a National Institutes of Health R01 Award titled Characterizing and Mitigating the Role of Oxidative Damage Ii Microelectrode Failure. In collaboration with Co-Principal Investigator Joseph Pancrazio, PhD at the University of Texas, Dallas and starting this month, this 5-year, $3.1M project will investigate the effect that antioxidant-coated microelectrodes have on the stability of stimulation and neural recordings. Read more...

APT Center announcement
Dr. Douglas Shire Receives VA Merit Review Fund
05 Apr 2019
Congratulations to Douglas Shire, PhD who has received a VA Rehabilitation Research & Development (RR&D) Merit Review titled Optimization & Pre-clinical Testing of Implantable, In-Line High Density 32-Channel Connector. Starting in April, this 3-year, $730K project aims to facilitate interconnections within and among new and existing long-lasting neural interfaces used, for example, to treat disorders of the peripheral nervous system, to restore natural sensations in a prosthetic limb, or in other peripheral neuro-prostheses. Read more...

APT Center announcement
Drs. Hess-Dunning and Capadona Receive VA Merit Review Funding
04 Apr 2019
Congratulations to Allison Hess-Dunning, PhD and Jeffrey Capadona, PhD who have received a VA Rehabilitation Research & Development (RR&D) Merit Review titled Hybrid Drug-Eluting Microfluidic Neural Probe for Chronic Drug Infusion. Starting in April, this 4-year, $1.09M project will address the limited duration that intracortical brain-machine interfaces (BMI) can record functional signals. Read more...

VA Office of Research & Development: Awards & Career Milestones
VA researcher Dr. Ronald Triolo receives Paul B. Magnuson Award
01 Apr 2019
Dr. Ronald J. Triolo has received the VA Rehabilitation Research and Development Service's highest honor—the Paul B. Magnuson Award. The award is given to acknowledge entrepreneurship, humanitarianism, and dedication in service to Veterans. Read more...
Also in The daily, APT Center announcement

APT Center announcement
Technology Update: 3D Printed Artificial Lungs
05 Mar 2019
New Funding and National Attention for Microfluidic Artificial Lung Research. Secretary of the VA Robert Wilkie shared stories of the VA that inspired him, including APT Investigator Dr. Joseph Potkay's microfluidic artificial lung, during his statement before the Senate Veterans Affairs Committee. Read more...

VA Research Currents
Study: Technology helps upper-limb amputees regain a sense of touch
28 Feb 2019
Artificial hands have come a long way since the days of the simple mechanical hook. Nearly 50 years ago, at a time when engineers were only dreaming of what is possible today. Read more...

APT Center announcement
Investing in Innovation: the Cleveland VA Medical Center Gives Back
26 Feb 2019
Over the years, the Louis Stokes Cleveland VA Medical Center has shown a commitment to innovation in the ever-changing health care landscape. Investing in employees and their innovative ideas for new clinical programs, processes, and devices is critical to improve the care and lives of our Veterans. This year, our medical center is funding seven device oriented projects, five of which include project leaders associated with the APT Center. Read more...

The daily
CWRU receives third-straight $500,000 technology start-up fund award from Ohio Third Frontier Commission
16 Jan 2019
The Ohio Third Frontier Commission has awarded Case Western Reserve University its third $500,000 grant since 2016 for the CWRU Technology Validation and Start-Up Fund Program (CTP), a campus-based translational research fund to help faculty researchers, including Drs. Kiju Lee and Ronald Triolo, advance and commercialize their innovations. Read more...

APT Center announcement
Dr. Jeffrey Capadona Receives VA RR&D Research Career Scientist Award
07 Jan 2019
Congratulations to Jeffrey Capadona, PhD who has received a 5-year VA Rehabilitation Research & Development (RR&D) Research Career Scientist Award effective this month. Dr. Capadona's research lies in studying various aspects of microelectrode performance, and pursuing both materials-based and therapeutic-mediated methods to mitigate the neuroinflammatory-mediated microelectrode failure mechanisms. Read more...


News Archive
| 2014 | 2015 | 2016 | 2017 | 2018 |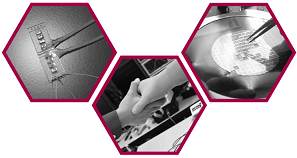 return to top